The Account Settings page contains the following items related to your account - Personal Info, Password, Company Info, Delete Account, and System Settings.
TABLE OF CONTENTS
Personal Info
Update Password
Company ID
System Settings
Delete Account
Account Settings can be accessed by clicking on your hyperlinked e-mail address in the top right corner of the screen.

Once on the Account Settings page, you will be presented with the view below which will allow you to update/access the following items related to your account.
Personal Info

Password

Company Info

Delete Account

System Settings
Personal Info
As shown below, a full name, phone number, and a brief user description can be entered and reviewed under the "Personal Info" section.
Make sure to enter a phone number and check the box for "Enable Text Messages" if you wish to receive SMS alerts.
If needed or necessary, the description box can be filled with additional information pertinent to the user, operation, or program (job title, hours of operation, etc.). Once the information has been entered or changed, click the "Update" button to save the information.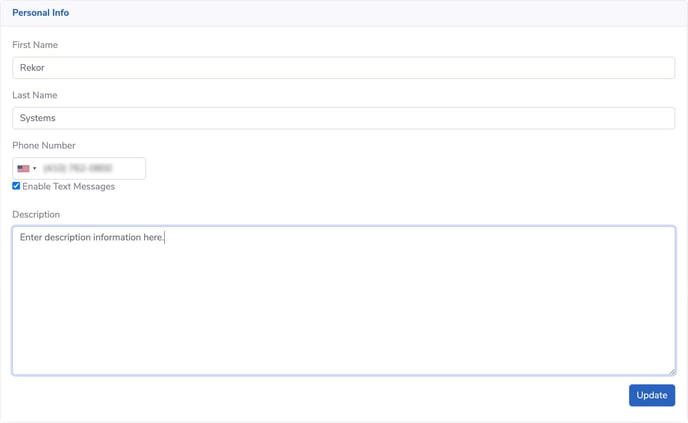 Update Password
You may need to update your password for security purposes and/or as needed. Enter a new password following the requirements (fine prints below the text box) and confirm it in the second text box. Click "Update" to save changes.

Company ID
The company ID is a unique identifier that can be used to configure agents for camera streams.

System Settings
As shown below, the account's specific usage settings can be changed under the "System Settings" section. You can also generate an API Key to programmatically interact with the Scout backend. By selecting "Enable API authentication using Company ID" you can replace the API Key with the Company ID.
The following settings can also be changed:
Session Expiry Time (seconds) – Designed for security purposes; the active session will end, and the user will be logged out upon the session time limit.

Require Justification to Search – A brief description is required to be entered for each search.

Refresh Password – Password will expire every 90 days and the previous 10 passwords cannot be used.

One User per Session – Limits the session access to only one user per account.

Enable MFA (Multi-Factor Authentication) – Providing enhanced security framework.

Language – Allows the user to select the language of preferences.

Delete Account
If you choose to delete your account, all the collected data will be lost. Once an account has been deleted it cannot be undone.